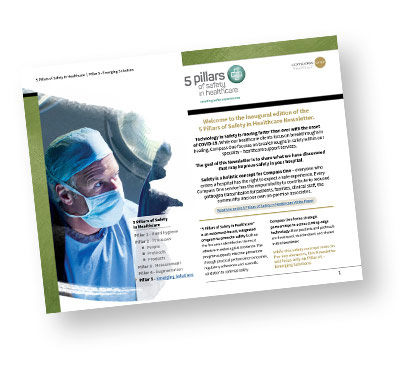 Welcome to the inaugural edition of the 5 Pillars of Safety in Healthcare Newsletter.
Technology in Safety is moving faster than ever with the onset of COVID-19. While our healthcare clients focus on breakthroughs in healing, Compass One focuses on breakthroughs in safety within our specialty – healthcare support services.
The goal of this Newsletter is to share what we have discovered that may improve safety in your hospital.
Safety is a holistic concept for Compass One – everyone who enters a hospital has the right to expect a safe experience. Every Compass One service has the responsibility to contribute to reduced pathogen transmission for patients, families, clinical staff, the community and our own on-premise associates.
"5 Pillars of Safety in Healthcare" is an evidenced-based, integrated program to promote safety built on the five areas identified as the most effective in reducing HAI incidence. The program supports infection prevention through practical performance outcomes, regulatory adherence and scientific validation to optimize safety.
Compass One forms strategic partnerships to access cutting-edge technology. New products and protocols are developed, standardized, and shared in this Newsletter.
While the 5 Pillars of Safety in Healthcare concept rests on five key elements, this Newsletter will focus only on Pillar #5 – Emerging Solutions.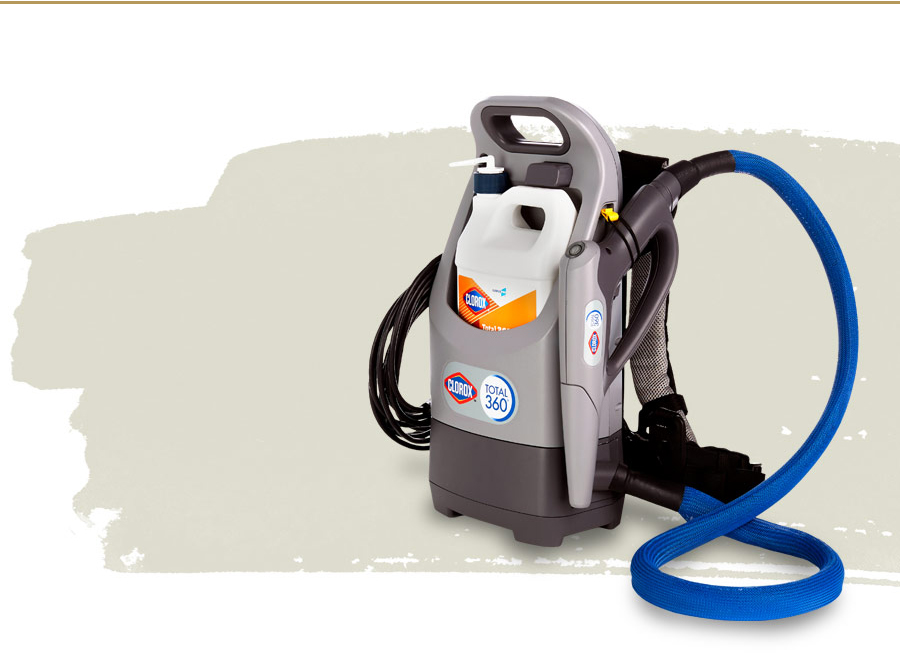 Clorox® Total 360®
The Clorox® Total 360® Electrostatic Sprayer disinfects and sanitizes all surfaces. Current practices of manual cleaning and disinfection are labor-intensive, often a two-step process that involves high equipment, chemical, PPE, and labor costs.
Studies have shown that the Clorox® Total 360® Electrostatic Sprayer provides rapid disinfection of hard-to-reach areas quickly. The PowerWrap™ nozzle atomizes and electrostatically charges particles that are then attracted to surfaces and "wrap around" objects to provide uniform coverage on all sides, covering 300 ft2/minute with 65% less solution than trigger sprays.
Clorox® Healthcare® Spore Defense™ solution kills C. difficile in 5 minutes and 42 other microorganisms in just one minute. For organizations that have not invested in UV-C technology, this system provides an effective alternative to manual applications. This system has substantially shorter application time, better coverage even on complex equipment surfaces, less chemical used or discarded, and more efficient use of employee time. (see the white paper)
Benefits realized in real-world applications include reduced absenteeism, disinfection of wheelchairs at 1/4 the normal time required and demonstrated equivalent efficacy without human pre-clean reducing labor demand.
Clorox® Total 360 Electrostatic sprayer delivers more uniform, wraparound coverage to the targeted surfaces than current sprayers on the market today. Superior surface coverage helps provide better protection from the spread of germs. (read more)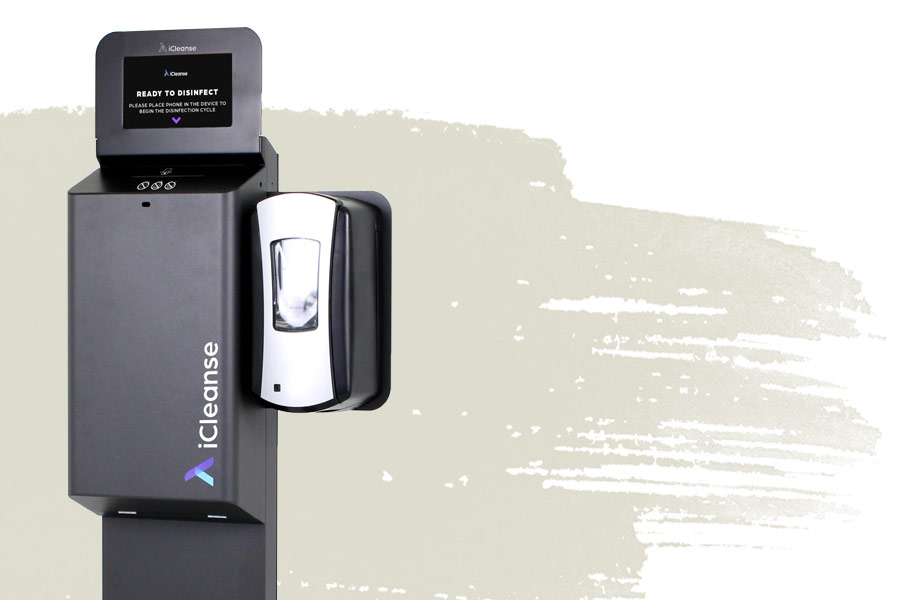 Surfacide® iCleanse™
Regular disinfecting of high-touch and shared electronic devices is essential to protect patients and employees from transmission of pathogens. Traditional practices are time-consuming and dependent upon user training and diligence. Electronic devices such as smartphones and tablets – potential pathways for microbial transmission – may be particularly challenging to clean using chemical disinfectants. Surfacide® iCleanse™ products use UV-C technology to kill 99.9% of pathogens in approximately 30 seconds.
This process of disinfection is easy to integrate into day-to-day activities by employees, patients, or visitors. iCleanse™ mounted on a mobile stand can be taken during rounds or turn-down service and offered to patients and family as an opportunity to disinfect their devices. iCleanse™ products are available in four sizes for disinfecting mobile phones and tablets. (read more)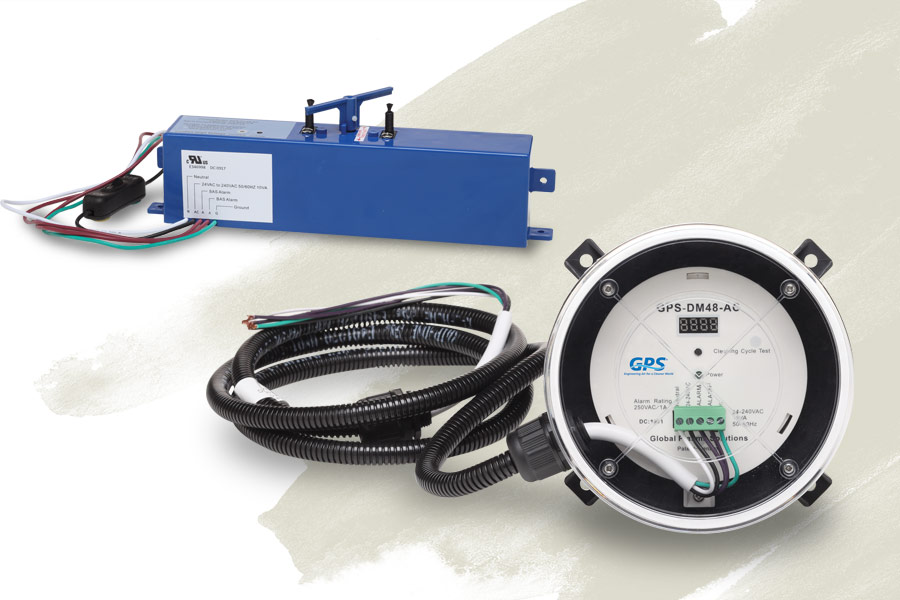 Ventilation Treatment for Aerosolized Pathogen Mitigation
Aerosolized transmission of SARS pathogens is a greater risk under COVID. Treating the air through the ventilation system within the hospital environment can reduce further infection transmission.
Needlepoint bipolar ionization (NPBI) technology from Global Plasma Solutions® delivers a concentration of positive and negative ions within the ventilation system that attract airborne particulates and cluster them through a snowball effect, making them easier to capture in filtration systems.
Positive and negative ions disrupt pathogens' surface proteins, rendering them inactive. Studies have proved the ability of the NPBI™ technology to reduce infectivity of certain viruses by 90% or more. In addition, NPBI™ technology helps to remove dust, pollen and odors.
Unlike some ionization products, the GPS system does not produce ozone harmful to breathing. Automatic, self-cleaning models handle air flow from 2,400 cubic feet per minute (6 tons) to 4,800 CFM (12 tons) and maintain a sustained ion output over time. GPS-MEASURE detectors measure ion levels in real time either in ducts or in spaces to verify performance. (read more)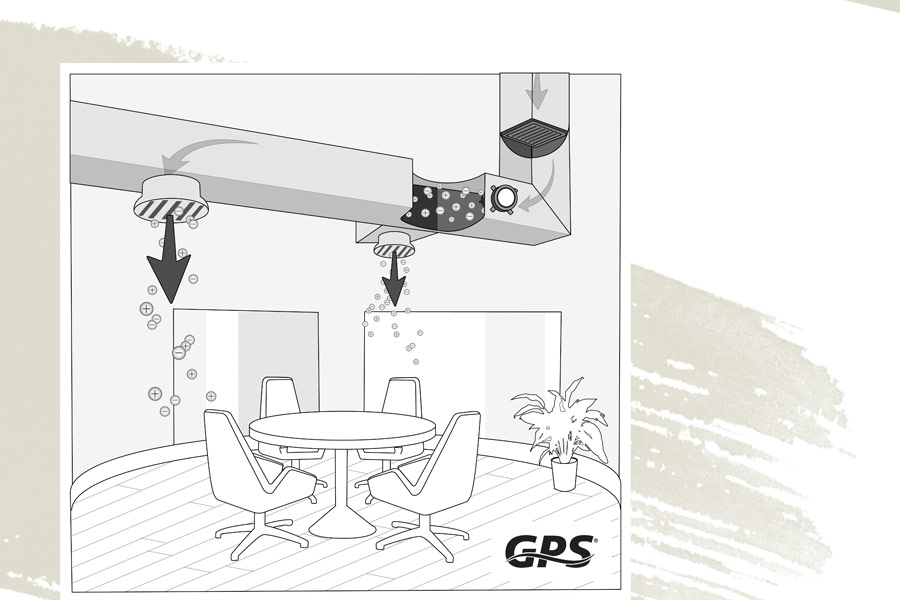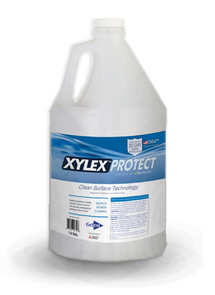 XYLEX™ Barrier Solution
Even properly used disinfectants only work temporarily. High-touch surfaces in hospitals must be disinfected at least daily, but exponential microbial growth, recontamination, or inconsistencies in cleaning practices can still produce unsafe surfaces 10 – 30% of the time.
Xylex PROTECT™ (formerly known as GR-AD PRO) is a clean surface technology that uses a patented polymer to create a smooth, self-assembling molecular barrier that will not support microbial growth and makes general disinfectants more effective than when used on porous surfaces.
Xylex PROTECT™ does not replace cleaning and disinfection, but when applied at least once per month it makes cleaning and disinfection more efficient and helps keep surfaces safe despite cleaning inconsistencies.
Clinical studies have shown substantial reductions in microbial contamination, as measured by ATP levels, up to 30 days after a single application. Daily use is recommended for high-risk environments such as emergency rooms, operating rooms, ICUs, and neonatal units. (read more)


Disinfection on untreated surfaces
Data from Hospital using best-practice hospital disinfecting protocol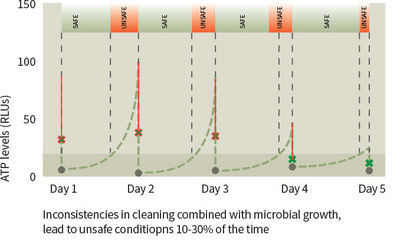 Disinfection on XYLEX™ treated surfaces
XYLEX™ PROTECT applied day 1; regular hospital disinfecting protocol on subsequent days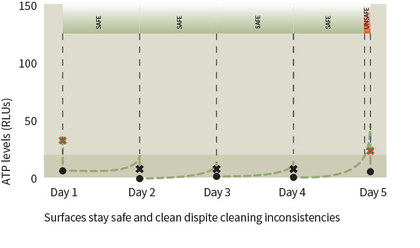 New technologies that should be available soon will be more fully reviewed in the Fall edition of this newsletter, but here is a peek at what's coming.
Clorox™ Anywhere Daily Disinfectant & Sanitizer - This new disinfectant can be used to disinfect hard, non-porous surfaces in Food service.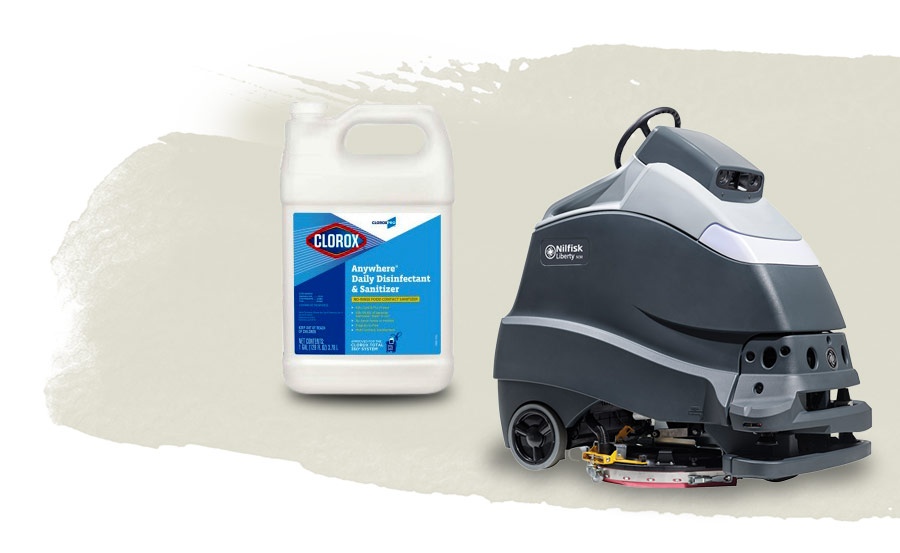 Nilfisk™ Robotic Scrubber - Nilfisk™ autonomous scrubbers can scrub 6 hours a day every day.


Technology White Papers
Emerging solutions in technology can impact safety, productivity and the Patient experience. These white papers examine recent breakthroughs and the benefits driven by each.
Workforce Automation-Virtual Manager
This platform is a mobile application tool that empowers Associates to communicate, solve problems and report in real time.
UV-C Technology to Improve Patient Experiences
This paper proves that when adding a UV-C to bathroom treatment in an occupied room, HCAHPS improve.

OMIT Pandemic Response
The OMIT strategy for pandemic events falls into five categories: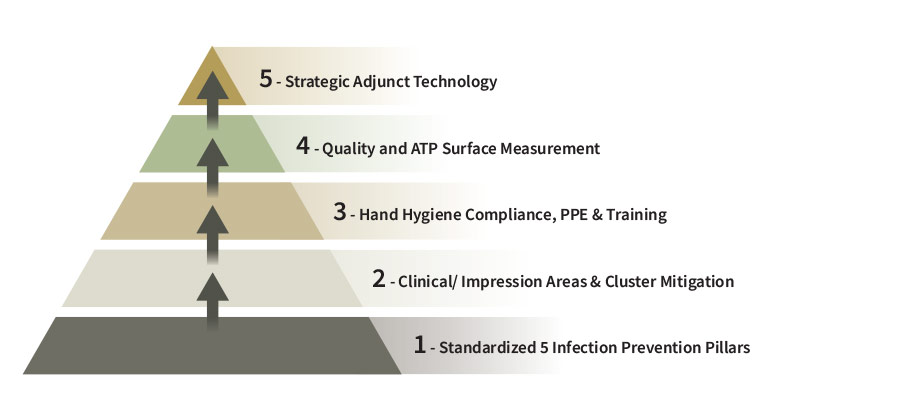 Compass One developed OMIT in response to SARS. OMIT stands for Operational Mitigation of Infectious Transmission. OMIT is a holistic process-focused response to the threat of heightened pandemic-like virus contagion and the potential length of time a virus may remain active on surfaces. Disinfecting protocols in both occupied and terminal discharge rooms include a greater focus on high touch surfaces affected by aerosolized events (sneezing, coughing, etc.).
Disinfecting requires adherence to evolving CDC pandemic guidelines. Service-level frequencies with pandemic-qualified EPA registered disinfectant are heightened with specific attention paid to these areas: (read more)
CDC Guidelines Strict adherence to Social Distancing and appropriate PPE (N95 masks) is required.
Occupied patient room - 6' space bubble. Focus on high touch surfaces depends on patient acuity.
Terminal discharge room High-touch manual cleaning should be verified with ATP and UV-C adjunct technology can be added.
Impression area - public or non-clinical spaces. Focus on high-touch surfaces in public areas such as elevator pads, door handles, etc. must be heightened.
Cluster mitigation Heightened focus in any public or clinical area that experiences significant human interaction is required.
The protocols, products and training must evolve. As novel coronaviruses impact global populations, healthcare professionals and their support teams must consider their pandemic strategies to remain nimble and responsive. Learn. Adjust. Explore new technologies. Flexibility is critical.
Sign me up to receive the latest content on 5 Pillars of Safety in Healthcare.